Approach and Methodology for Consulting Assignments
Our 3-D framework is proven approach & methodology for execution of consulting assignments. Our methodology is based on our considerable experience in assisting several government organizations, across geographies, in achieving their project objectives. These three phases of 3-D framework comprehensively covers the entire gamut of activities to be done to achieve the desired objectives of the client. This proprietary methodology, called the 3-D framework begins with Problem definition, Solution Design and Delivery & Implementation. Salient features of 3-D framework are detailed below:
The framework is flexible and any number of tasks may be defined under each phase to suit any project specific requirement
The framework is scalable and can be tailored to any big or small projects
The framework is independent of tools ( Any tool can be used to support the framework)

3-D Framework
An example implementation of 3-D framework in a typical e-Governance consulting projects is as follows:
Define Phase
Project Kick off
Setting up of the PMO
Constitution of Steering Committee
Inception documentation for common understanding on the timelines, reporting, monitoring & communication channels
As-is assessment - Process, Infrastructure, People, Technology
Inter-linkages with other departments, and the related processes
Study of International and National Leading Practices
Gap analysis/ Benchmarking
Identify and Document the training and Capacity Building Plan
Identify and Document Change Management Strategy
Finalization of Technical and Functional requirements
Design Phase
Design of Application, Network, Hardware, Database, Security Architectures
Design of Software and Hardware requirements
Design of IT Organization Structure
Design of Procurement Strategy
Design of IT procedures and Service Levels
Finalization of IT budgets
Design of Evaluation Criteria
Design of DPR document
Design of RFP document
Deliver
Bid Process Management
Floating of RFP, Pre-bid Management, Responding to queries
Assistance in Selection of System Integrator ( Technical and commercial evaluation)
Assistance in Contract Negotiation
Award of Contract
In 3-D framework, there are no activities related to project monitoring. For program/project monitoring related activities we have our unique 3-R framework (3 rings), which helps us to deliver the required activities in Program Management phase.
Each stage in our unique 3-R framework signifies the importance of activities required for success of any program.
Following key principles highlights the importance of 3-R framework for program management phase:
Doing program Reviews with Knowledge to track the project progress
Reducing program risks with understanding project Insights and managing the relationship with all stakeholders & their reporting requirements.
Performing overall Governance of Program with Ownership (as an extended arm of the client)
ProcessFramework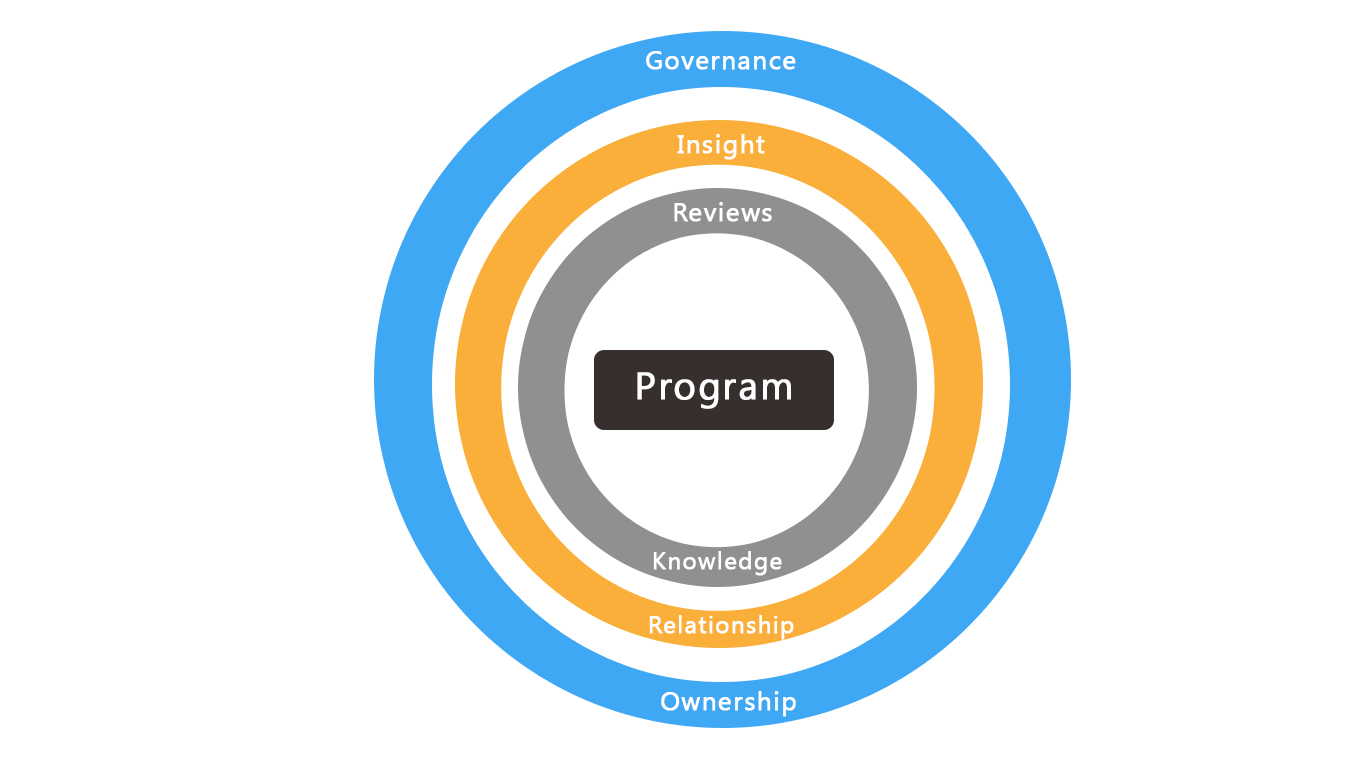 We take a robust, output driven approach to program management. Our unique 3-R framework for Program Management & Assurance can provide the support and insight needed to deliver the leadership and challenge required to maximize returns and minimize the risks associated with business change. During Program Management phase, we -
Assist our clients in effective implementation of the activities identified for that program.
Become responsible for managing the overall project implementation and ensuring that key objectives are met and issues are highlighted in a timely manner.
Form an integrated Core Team with client`s representatives to develop a best practice driven, Project Management capability in terms of procedures and systems.
Provide formats to institutionalize each process.
Offer our advisory services constantly to ensure the same gets delivered successfully to our client .
Following are some of the key benefits realized from our program monitoring approach:
Increased project and program performance through external review and challenge
Reduced exposure to program, operational and regulatory risk through a greater understanding of risks their impact and the actions required to manage them effectively
Improved governance, decision making and control through the support and candid insight provided by an external, regular and structured monitoring of programs
Increased internal capabilities provided by regular exposure and comparison to external leading practices
? Higher levels of confidence amongst key internal and external stakeholders through the involvement of an external provider of program assurance
Increased certainty of benefits realization through an external opinion on validity and ability to deliver
Earlier warning of key delivery issues and a greater understanding of their root causes provided through an independent and external perspective on the progress of a program